Consumer electronics and computer and communications technology are among the booming markets of the future. This not only increases the demand for high-performance printed circuit boards, but also for sophisticated and high-quality sheet metal housings for embedded systems, for example. In Roding in the Upper Palatinate, mech-tron GmbH & Co. KG develops and produces tailor-made solutions for this purpose. The company owes its success not least to its own high quality standards. Machine and tool technology with its finger on the pulse is another important building block. For deburring, edge rounding and finishing of sheet metal parts, mech-tron uses deburring discs, abrasive cloth belts and round brushes from boeck GmbH.
To fully exploit the potential of the LISSMAC grinding and deburring machine, Bernhard Hruby (right), production manager at mech-tron GmbH & Co. KG, and Dipl.-Ing. (FH) Dipl.-Kfm. (FH) Marc Böck (left), Managing Director of boeck GmbH, work closely together.
From simple mounting brackets to complex housings – the electrical and electronics industry requires a large number of high-quality sheet metal parts, often made of stainless steel or even aluminum. mech-tron GmbH & Co. KG is one of the world's leading manufacturers of such systems made of all common materials for electronic and embedded equipment. From design concept and construction to CAD and automated series production, the company based in Roding (Upper Palatinate) offers everything from a single source. On an area of 4,500m2 with state-of-the-art machinery and a broad manufacturing spectrum, the team of 150 employees develops and produces customer-specific solutions that are precisely tailored to requirements.
High-performance tools and comprehensive consulting
In order to meet the high quality demands of the industry and minimize the risk of injury during further processing or to the end user, flawless sheet metal parts without sharp edges and burrs are an absolute must. Thus, deburring, edge roughening and surface finishing of the demanding sheet metal parts are of central importance. With a LISSMAC deburring and grinding machine SMW 533 in combination with the high-quality tools from boeck GmbH, mech-tron has the best prerequisites for this: "Through the wet grinding process on our LISSMAC machine, we achieve a perfect surface finish and can easily process different materials on one machine. In order to fully exploit the machine's potential, we need a strong partner when it comes to tool technology," says Bernhard Hruby, Technical Manager and Energy Manager at mech-tron GmbH & Co. KG. "We have found this in boeck. With the tools from boeck – be it deburring discs, abrasive cloth belts or round brushes – we achieve long service lives and a consistently high performance for our processes. In doing so, boeck not only supplies us with the abrasives, the experts also advise us at all stations of the grinding and deburring machine with regard to machine and tool parameters. For example, boeck recommends optimal cutting and feed rates, which we then test together."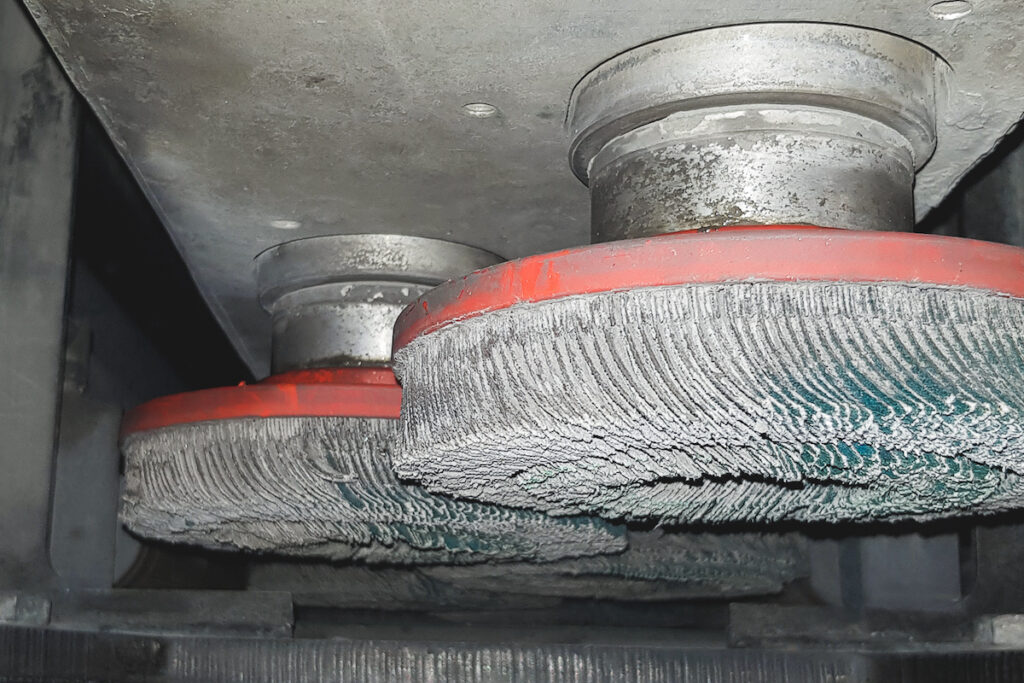 HERO deburring discs from boeck are ideal for mech-tron requirements for edge rounding of sheet metal components.
The basis of boeck's comprehensive all-round consulting is the many years of experience and know-how of the team around engineers Marc and Jochen Böck. They put their heart and soul into developing and producing customized tool solutions for sheet metal deburring – from slag removal and pre-grinding through deburring, rounding and oxide removal to surface finishing. The tools are manufactured on machines developed in-house with a high degree of automation. "We can equip all LISSMAC deburring machines – as well as machines from many other manufacturers – with deburring discs and also deburring rollers, abrasive cloth belts and abrasive fleece belts. Thanks to our structured production strategy and intelligent warehousing, we can supply the right abrasive from our extensive portfolio within a very short time," says Dipl.-Ing. (FH) Dipl.-Kfm. (FH) Marc Böck, Managing Director of boeck GmbH.
HERO breaks performance limits
In order to achieve a strong edge rounding on the sheet metal components, mech-tron uses the HERO deburring discs from boeck. Marc Böck: "The LISSMAC grinding and deburring machine at mech-tron is a state-of-the-art system. Our tools, specially developed for wet processing, are ideal for optimizing processes in terms of cost, quality and time. Our HERO deburring discs in particular are ideally suited to mech-tron's requirements." The HERO deburring discs are characterized by a high abrasive density combined with great flexibility of the grinding stock. This is made possible by the new arrangement and slot structure of the abrasive flaps developed by boeck. This increases the abrasive stocking many times over and makes optimum use of the potential of deburring machines. "Everything is right with the HERO deburring discs: not only do they have excellent performance, the price-performance ratio is also optimal for us. This cannot be taken for granted, especially with tools for wet processing machines," emphasizes Bernhard Hruby. 
The different trim materials of the HERO deburring discs open up a wide range of applications: As an all-rounder, the Brown Edition can be used for all types of sheet metal. The user achieves more aggressive processing and thus stronger edge rounding with the Blue Edition. In comparison, it leads to a higher stock removal. When machining components made of aluminum and plastic, the Grey Edition is the right choice. Glossy surfaces of the workpieces are an additional advantage here.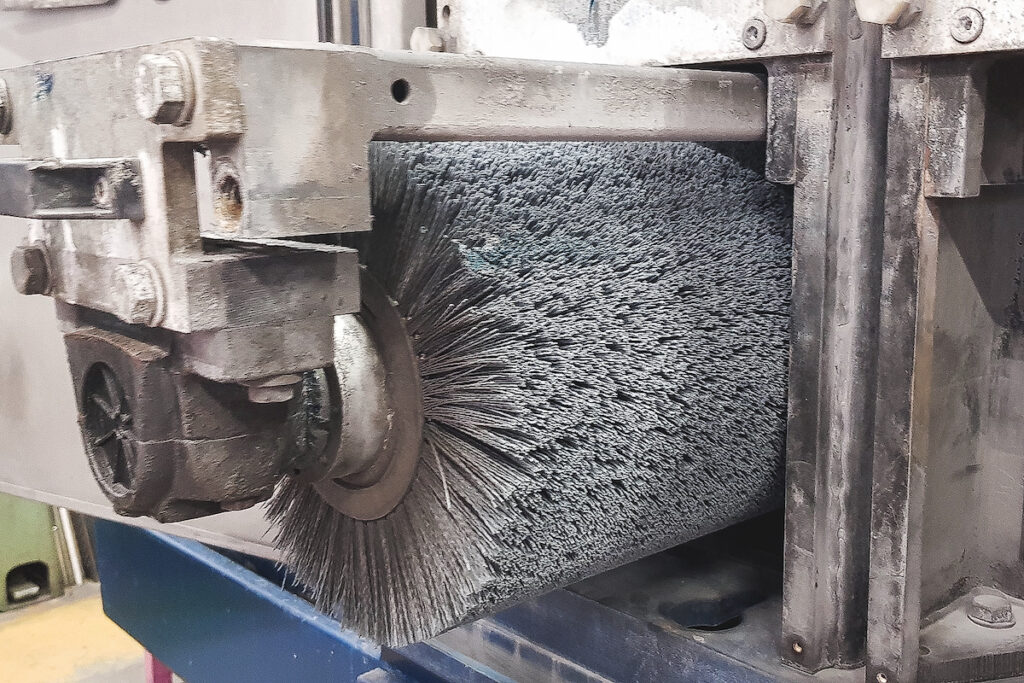 With the different round brushes from boeck, mech-tron always achieves the desired surface finish.
From deburring to finishing
Not only for edge rounding, but also for the upstream and downstream process steps, the experts at mech-tron rely on boeck's know-how. "With the large selection of abrasive cloth belts in different qualities and grit sizes, boeck always has the optimal tool for primary burr removal on our various components at hand -delivery within the shortest possible time included," says Bernhard Hruby.
In addition to different grit sizes, the user can choose between different abrasives for the abrasive cloth belts. Whether for universal use or aggressive but cool grinding, for a fine grinding pattern with high cutting ability or high material removal with low processing temperature, long service life and good surface quality – there is a suitable product for every requirement.
Bernhard Hruby: "On the last machining station, we use different round brushes with very elastic and flexible silicon carbide bristles from boeck. This way, we always achieve the desired surface finish." A big plus of the round brushes is that no grinding residue settles in the bristles during either wet or dry processing. This means that the machining result always remains at a consistently high level throughout the entire service life of the wheel brushes. 
"With boeck, we have a supplier at our side who provides us with optimal advice and high-quality tools throughout the entire process chain, from primary burr removal to deburring and edge rounding to the most diverse surface finishes," adds Bernhard Hruby. 
Optimal tools for the entire process?
Click here to discover our products!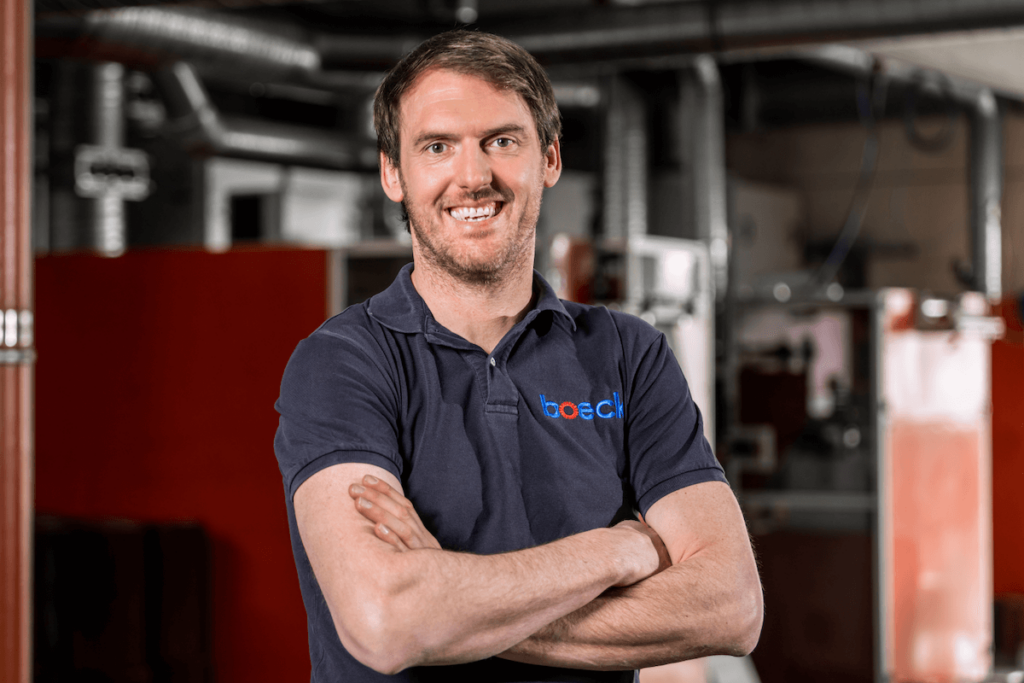 Marc Böck is the founder & managing director of boeck GmbH together with his brother. His expertise focuses on the process chain of sheet metal processing and its optimization. He is the right contact person when it comes to the optimal deburring tool and the perfect process parameters.