one who wants to produce high-quality sheet metal parts economically must constantly work on their processes and modernize their production facilities. This applies in particular to the finishing steps such as primary deburring, edge rounding and surface finishing. With a WEBER grinding and deburring machine for wet processing, GEWA Blechtechnik GmbH has created the mechanical prerequisites for this. For tools and abrasives, the Austrian company relies on the know-how of boeck GmbH from Leipheim and receives complete consulting for the sheet metal deburring process chain at the same time.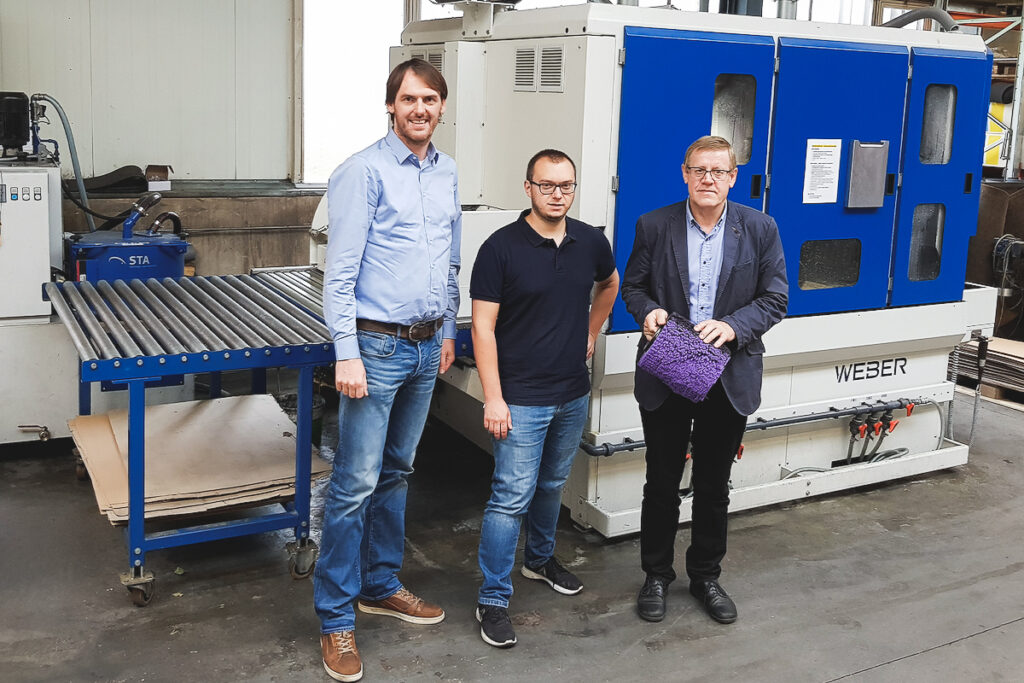 Experts in sheet metal processing (from left): Dipl.-Ing. (FH) Dipl.-Kfm. (FH) Marc Böck, Managing Director of boeck GmbH, Tobias Panhuber, Purchasing Manager at GEWA Blechtechnik GmbH and Walter Zwicklhuber, Managing Director of GEWA Blechtechnik GmbH.
Whether angular, round or curved, large series, small series or individual parts, from simple sheet metal cutting to complete housings – GEWA Blechtechnik GmbH is one of the leading contract manufacturers in the Austrian metal industry, not least thanks to its diverse manufacturing capabilities. At the Ried im Traunkreis site, the sheet metal experts produce on an area of 5,000 m2 and with around 65 employees, primarily for users from the electronics industry as well as mechanical and vehicle engineering. In order to meet the high quality demands of these industries, the company regularly invests in its production facilities and uses the latest technology.
Collaboration of experts for optimal results
For deburring, edge rounding and surface finishing of the sheet metal parts, GEWA uses a WEBER metal grinding machine from the NLC series. "Thanks to the machine's wet grinding technology, we can easily and safely process steel, stainless steel and aluminum on the same system. Even oily parts are no problem," says Walter Zwicklhuber, managing director of GEWA Blechtechnik GmbH. "For long tool life and good results, high-quality tools are the be-all and end-all, especially in wet machining. boeck GmbH is a competent partner across the entire process chain. In this context, their advice goes far beyond the selection of abrasives. They also support us with advice and assistance in process optimization. For example, machine and tool parameters such as cutting speeds and feed rates are recommended and tested together."
In this regard, boeck GmbH can draw on many years of experience and know-how. The team of experts around engineers Marc and Jochen Böck put their heart and soul into developing and producing customized tool solutions for sheet metal deburring – from slag removal and pre-grinding to deburring, rounding, oxide removal and surface finishing. The tools are manufactured on machines developed in-house with a high degree of automation. The structured processes in both production and warehousing enable high quality and fast delivery of the tools.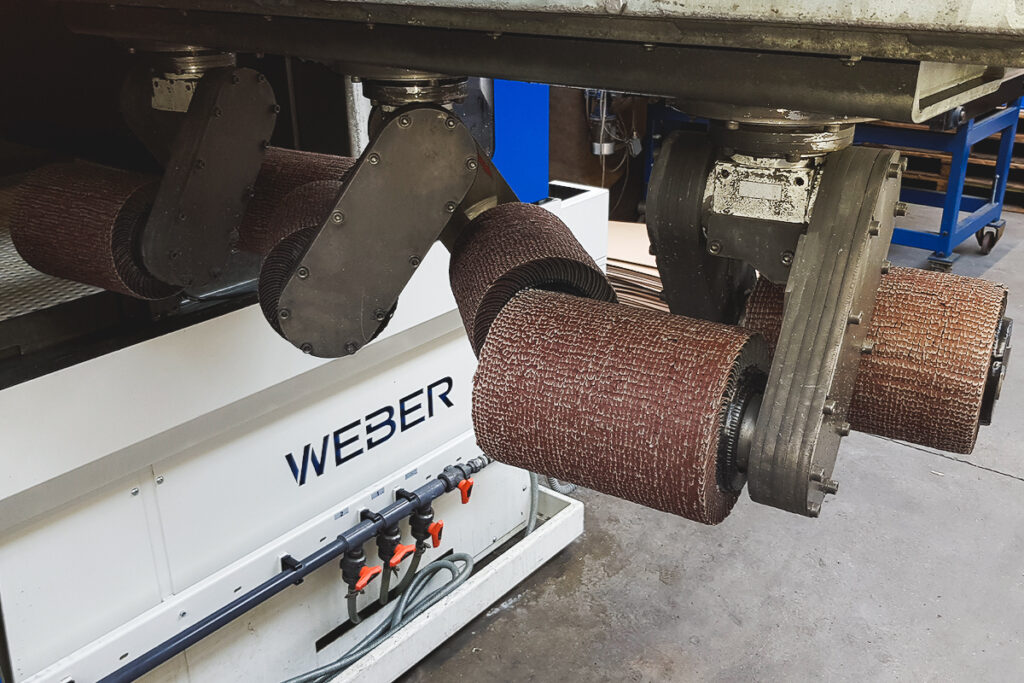 GEWA uses boeck deburring rollers that have been specially developed for wet processing.
"With the WEBER grinding and deburring machine, GEWA has a state-of-the-art system. With our rollers specially developed for wet-working grinding and deburring machines, we try to optimize the processes for GEWA in terms of costs, quality and time," says Dipl.-Ing. (FH) Dipl.-Kfm. (FH) Marc Böck, Managing Director of boeck GmbH.
A nose ahead in wet processing
Walter Zwicklhuber: "The deburring rollers from boeck have a very good performance – especially in wet processing. That was particularly important to us. Compared to other tools, we achieve better stock removal and longer tool life. In addition, there is a good price-performance ratio." This performance is made possible by a new type of trim material, which is cut by laser on a machine specially developed by boeck. The special cuts of the lamellae seal the edges so that no water can penetrate the lamellae. In addition, the high abrasive fabric density and complete wear of the flaps up to the core diameter also contribute to the long service life of the tools.
In addition, the non-contact cutting by laser means that the individual flaps do not lose any grains in the abrasive cloth, as is the case, for example, with punching. Together with the arrangement of the abrasive cloth flaps in the grinding or deburring direction, this results in greater edge rounding. Another quality feature is that the deburring rollers are made in one piece without segmentation and are therefore very stable. The balance quality G 6.3 ensures very smooth running.
GEWA uses deburring rollers with a diameter of 250 mm, a width of 260 mm and a mounting hole especially for the application on WEBER deburring machines. Depending on the workpiece and the desired deburring and rounding result, boeck has different types of abrasive cloth in its portfolio: The universal talent for all types of sheet metal is the "Brown Edition". In addition, the "Grey Edition" is suitable for rounding edges on components made of aluminum and plastic. The Purple Edition offers a very high stock removal rate and strong edge rounding.

Marc Böck: "We have also developed our own slot patterns for different requirements. Depending on the slot, we achieve a higher contact pressure and longer tool life. There are also suitable solutions for edge rounding of small cutouts and bores or for less aggressive grinding."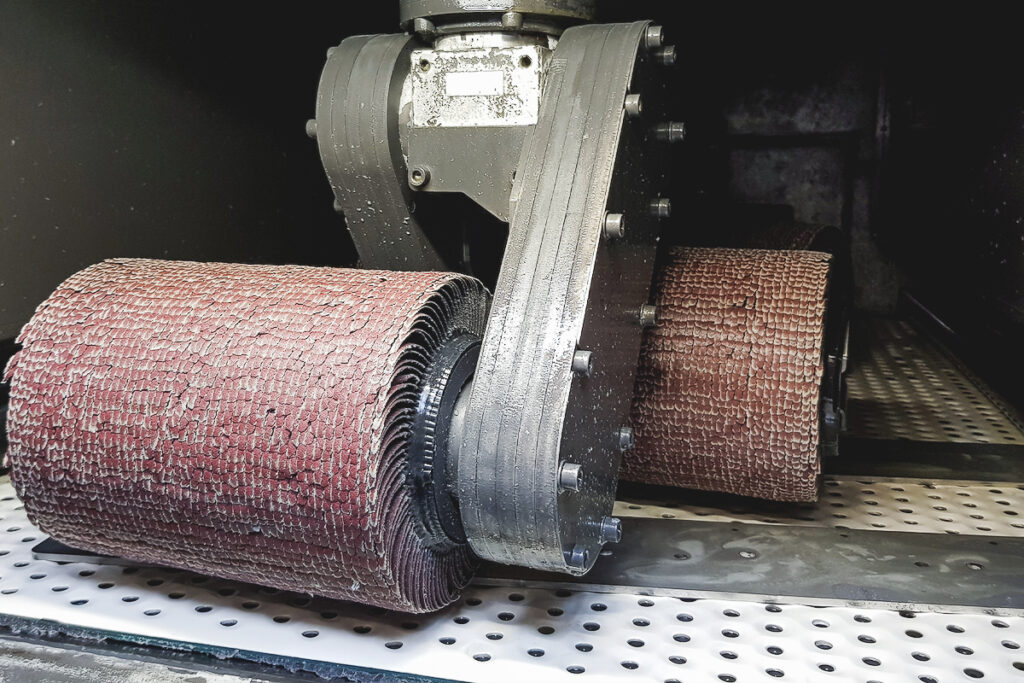 With the deburring rollers from boeck, GEWA achieves a good removal rate with a long service life at the same time.
Available within shortest time
GEWA's experts rely on boeck's know-how not only for edge rounding, but also for the upstream and downstream process steps. For primary burr removal, GEWA uses abrasive cloth belts from Leipheimer in various qualities and grit sizes. "Which abrasive cloth belt is suitable for the process depends on the desired stock removal rate and the material to be processed. Boeck always has the right one on hand here and can supply us with the required belts from stock within a very short time," says Tobias Panhuber, purchasing manager at GEWA Blechtechnik GmbH. 
In addition to different grit sizes, the user can choose between different abrasives for the abrasive cloth belts. Whether for universal use or aggressive but cool grinding, for a fine grinding pattern with high cutting ability or high material removal at low processing temperature, long service life and good surface quality – there is a suitable product for every requirement. 


The finishing touch
For the surface finish, GEWA removes final scratches with non-woven abrasive belts from boeck. "We are also very satisfied with the advice and the tools for this process step. Depending on the material and the desired result, a variety of surface finishes are possible thanks to different nonwoven abrasive belts," says Tobias Panhuber. As with the abrasive cloth belts, boeck also has the nonwoven abrasive belts in stock in large quantities for other grinding and deburring machines and can therefore respond quickly to orders.

"With boeck, we have a supplier who provides us with optimum advice on tools throughout the entire process chain. From primary burr removal to deburring and edge rounding to surface finishing, we feel we are in very good hands there. Especially for our wet-working grinding and deburring machine from WEBER, we need a strong partner. Because we can only achieve long service lives and consistently high performance for our processes with state-of-the-art tools," Walter Zwicklhuber and Tobias Panhuber agree. 
Fantastische prestaties, zelfs bij nat gebruik?
Klik hier om onze producten te ontdekken.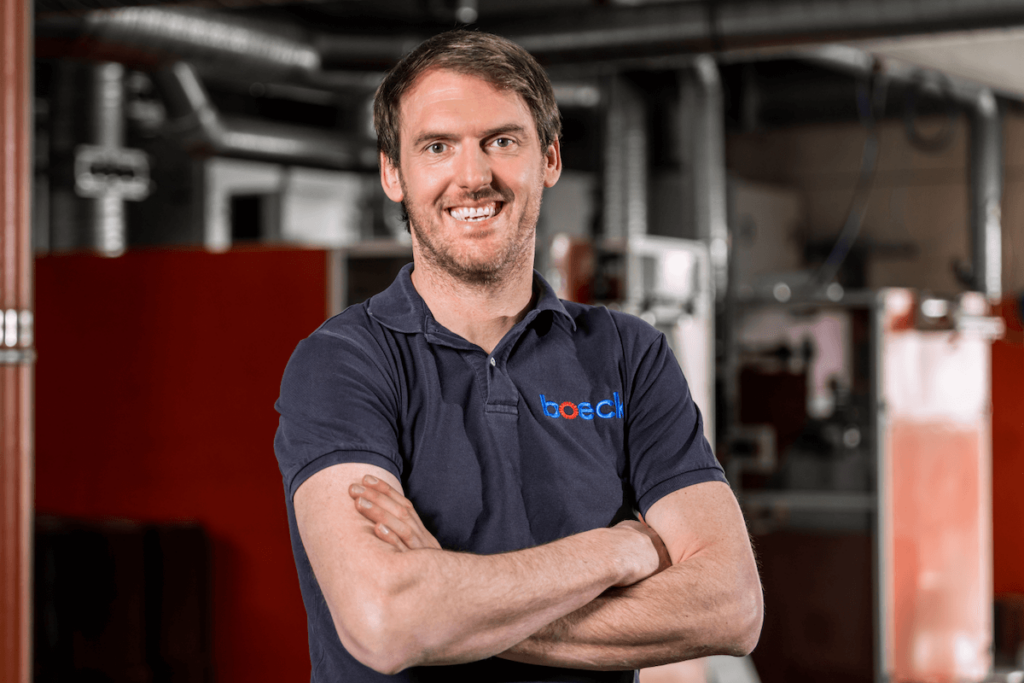 Marc Böck is the founder & managing director of boeck GmbH together with his brother. His expertise focuses on the process chain of sheet metal processing and its optimization. He is the right contact person when it comes to the optimal deburring tool and the perfect process parameters.