Deburring is an important step in metal processing. However, only a few have deep detailed knowledge in this special field. It's good to have experts at your side who can advise you on the entire deburring process chain and help you to optimize it. In order to master the challenges of deburring plasma-cut sheet metal parts, Metallbau & Metallgestaltung Benjamin & Daniel Loth GbR was therefore looking for a strong partner and found it in boeck GmbH. The experts in sheet metal deburring supported the metalworkers in modernizing their ERNST grinding and deburring machine, advised them on the selection of the correct setting parameters and supplied the high-performance tools for this purpose. The results are impressive.
A strong partnership in deburring plasma-cut sheet metal parts: Benjamin Loth (left), master metalworker and managing director of Metallbau & Metallgestaltung Benjamin & Daniel Loth GbR, and Dipl.-Ing. (FH) Dipl.-Kfm. (FH) Marc Böck (right), managing director of boeck GmbH.
As the name already says, everything at Metallbau & Metallgestaltung Benjamin & Daniel Loth GbR revolves around the material metal. Whether structural steel, stainless steel, non-ferrous metals or aluminum – the young metal construction company uses a wide range of possibilities from forging to cutting, welding and bending to drilling and turning to produce individual quality work for both business and private customers. Thus with a small, powerful team garden gates, railings, stairs, fences, mailboxes, gravestones and much more are manufactured. The secret of success: craftsmanship paired with traditional and modern manufacturing methods. 
Advice makes the difference
For sheet metal cuts, the Loth brothers also use their own plasma cutting system: "With our system, we can cut mild steel up to a thickness of 40 mm and stainless steel up to a thickness of 35 mm. For larger dimensions, we call on the expertise of partner companies," says Benjamin Loth, master metalworker and managing director of Metallbau & Metallgestaltung Benjamin & Daniel Loth GbR. "In order to provide our customers with the highest quality, deburring and edge rounding on the cut sheet metal parts is always part of our specifications. However, this is a time-consuming and labor-intensive manual process that would be more valuable for other tasks. That's why we purchased an older grinding and deburring machine from ERNST and completely overhauled it."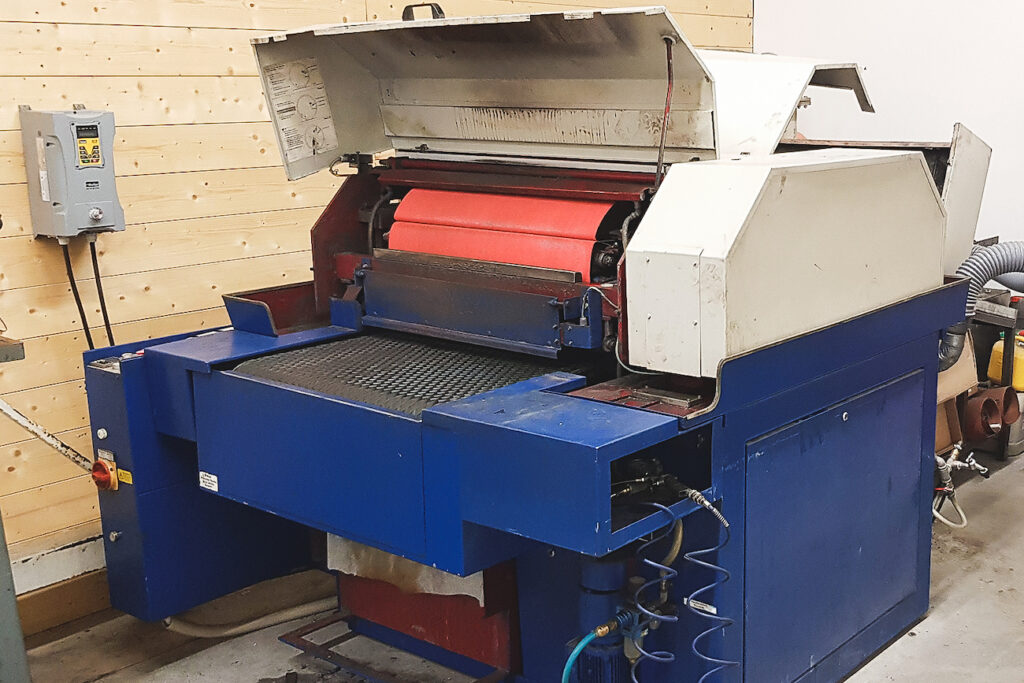 The ERNST grinding and deburring machine is perfect for Loth's requirements. When the machine was completely overhauled, boeck was on hand to advise the metalworkers.
The metalworkers were advised by boeck GmbH during the modernization. The innovative company from Leipheim is an expert in all aspects of sheet metal deburring. The team around engineers Marc and Jochen Böck develops and produces customized tool solutions for slag removal, pre-grinding, deburring, edge-rounding, oxide removal and surface finishing with heart and soul and has great experience with the individual process steps. "Very large burrs often occur during oxyfuel flame and plasma cutting. This requires powerful deburring tools and robust machines. In addition, the technology must be able to compensate for distortion and thickness tolerances on the sheet metal parts. The wet-working ERNST grinding and deburring machine is perfectly suited to the requirements of Benjamin & Daniel Loth GbR. When the system needed to be made fit again, we supported Loth right from the start in selecting the right tools and advised them on the required setting parameters, such as cutting and feed speeds, so that the installation of the replacement or new parts could be optimally aligned with the company's requirements," says Dipl.-Ing. (FH) Dipl.-Kfm. (FH) Marc Böck, Managing Director of boeck GmbH. 
Benjamin Loth: "boeck is more than just a supplier of deburring tools. Thanks to their expert advice, we have a problem solver for all questions concerning sheet metal deburring. Especially for our wet-working grinding and deburring machine, we need such a strong partner. Of course, we also pay special attention to the performance of the tools. With boeck, we have never been disappointed."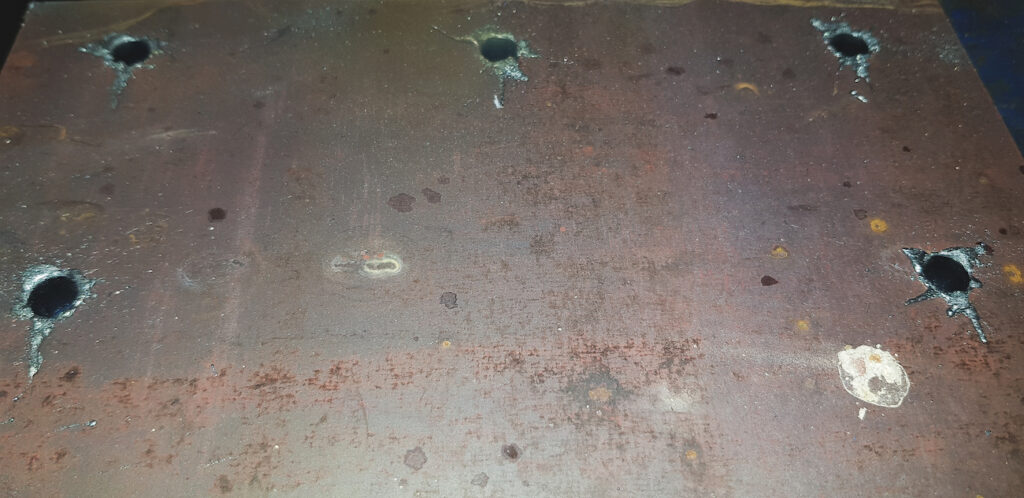 To remove the large burrs on plasma-cut sheet metal parts, powerful tools are the key.
Deburring wheels that impress
boeck manufactures the tools on machines developed in-house with a high degree of automation. With structured high-performance processes, the Leipheim-based company ensures the highest quality and short delivery times. Users will find customized solutions such as deburring wheels, abrasive cloth belts and abrasive non-woven belts for all ERNST deburring machines – and many other manufacturers. boeck's goal is always to optimize processes for its customers in terms of cost, quality and time. For deburring and edge rounding, Loth uses deburring rollers that boeck has developed especially for wet-working machines. "The deburring wheels have a very good performance – especially for wet processing. That was particularly important to us. Compared to other tools, we achieve a better removal rate and longer tool life with them," Benjamin Loth is pleased to say. 
The high performance in wet machining is made possible by a new type of trim material cut by laser. The special cuts of the flaps seal the edges so that no water can penetrate the flaps. In addition, a high abrasive fabric density and the complete wear of the flaps down to the core diameter extend the service life of the tools. Another quality feature: The deburring wheels are made from one piece without segmentation and are therefore very stable. The balance quality G 6.3 ensures high running smoothness.
Click here to discover our deburring wheels.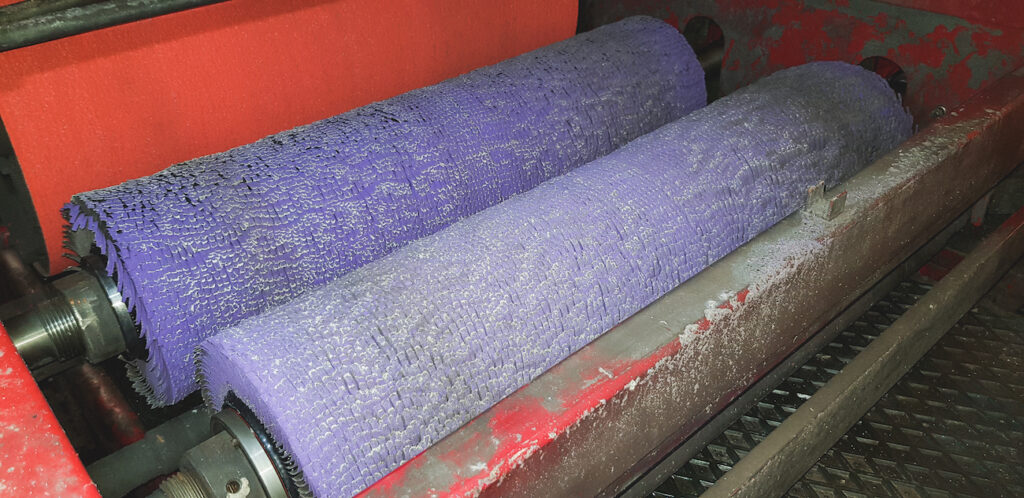 Loth's metal construction experts achieve very good performance and outstanding results with the boeck "Purple Edition" deburring wheels.
Highest stock removal rate
"Moreover, contact-free cutting by laser means that there is no grain loss in the abrasive cloth, as happens, for example, with punching. In addition, the abrasive cloth flaps are arranged in the grinding or deburring direction. This means that greater edge rounding can be achieved. Ideal for Loth's requirements," adds Marc Böck. Because a high stock removal rate and strong edge rounding are necessary to remove the large burrs on the plasma-cut sheet metal parts. This is why Loth also uses the "Purple Edition" from boeck. It has the highest aggressiveness of the various abrasive types. Benjamin Loth comments: "With the deburring wheels of the 'Purple Edition' we achieve excellent results. The metal removal rate in particular is outstanding – even with our wet-working deburring machine. In addition, we have an optimal price-performance ratio here." 
In addition to "Purple Edition", boeck also offers other types of abrasive cloth: The "Brown Edition" is suitable as a universal talent for all types of sheet metal – even with a changing range of workpieces. For edge rounding on components made of aluminum and plastic, the "Grey Edition" is the right choice. 
All variants are available with different slot patterns specially developed by boeck for different requirements. Depending on the slotting, a higher contact pressure and longer tool life are achieved. A suitable solution is also available for edge rounding of small cutouts and bores or in case the flaps should not act quite so aggressively to begin with.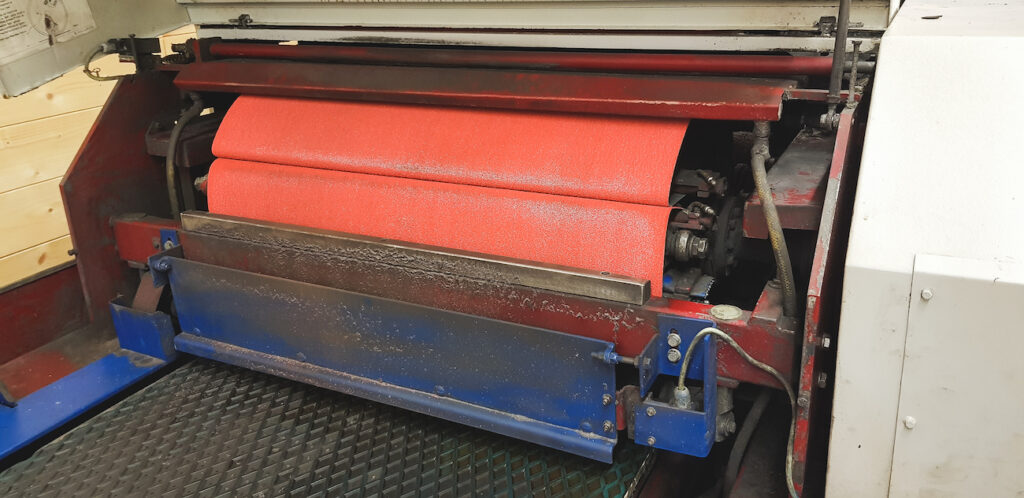 For the surface finish, Loth relies on the abrasive cloth belts from boeck. Thanks to different grit sizes and qualities, boeck always has the right finishing tool on hand.
From start to finish – everything from a single supplier
Loth also does the final polishing on the ERNST grinding and deburring machine: to remove the last scratches and give the sheet metal parts a shiny surface finish, Benjamin and Daniel Loth rely on abrasive cloth and abrasive fleece belts from boeck. "boeck also advised us well on this process step. We are very satisfied. Thanks to different grit sizes and qualities, boeck always has the right finishing tool on hand," says Benjamin Loth. boeck also has large quantities of the abrasive cloth and non-woven abrasive belts in stock for other grinding and deburring machines and can therefore react quickly. Whether abrasive cloth belts, deburring wheels or other tools – almost all orders are shipped the same day. 
"The cooperation with boeck is characterized by a "we" feeling. We have a strong partner who advises us optimally on the entire process chain and supplies us with state-of-the-art tools. This enables us to achieve long tool life and consistently high performance for our processes," says Benjamin Loth.
Let us advise you about the right tools for your process.
Click here to contact us.

Marc Böck is the founder & managing director of boeck GmbH together with his brother. His expertise focuses on the process chain of sheet metal processing and its optimization. He is the right contact person when it comes to the optimal deburring tool and the perfect process parameters.