Deburring sheet metal parts has decisive advantages: Clean sheets are easier to assemble, paint and weld. At the same time, they are particularly gentle on press brake tools. All this saves time as well as costs and results in workpieces of high quality. Metallbau Gogoll, contract manufacturer of high-quality sheet metal and steel structures from Deisenhausen, therefore makes no compromises when it comes to deburring, edge rounding and oxide layer removal. With the powerful tools from boeck GmbH in Leipheim, the company achieves excellent results on the Loewer grinding and deburring machine and can also save costs.
Machine covers, frames and components, protective grilles and soundproof booths, railings for both industry and private use, fences, gates, carports, privacy screens, stairs and more – if you need high-quality sheet metal and steel structures, Metallbau Gogoll is the place to go. The manufacturing spectrum of the master craftsman's company ranges from laser cutting, edging and welding to industrial assembly and painting work. "We produce series products, individual pieces and small parts. Our clients include both industrial companies and private customers. But no matter for whom we manufacture, our motto – Quality is no coincidence! – always has top priority in our work, even if it was originally born out of a sense of fun," says Rainer Gogoll, managing director of Metallbau Gogoll.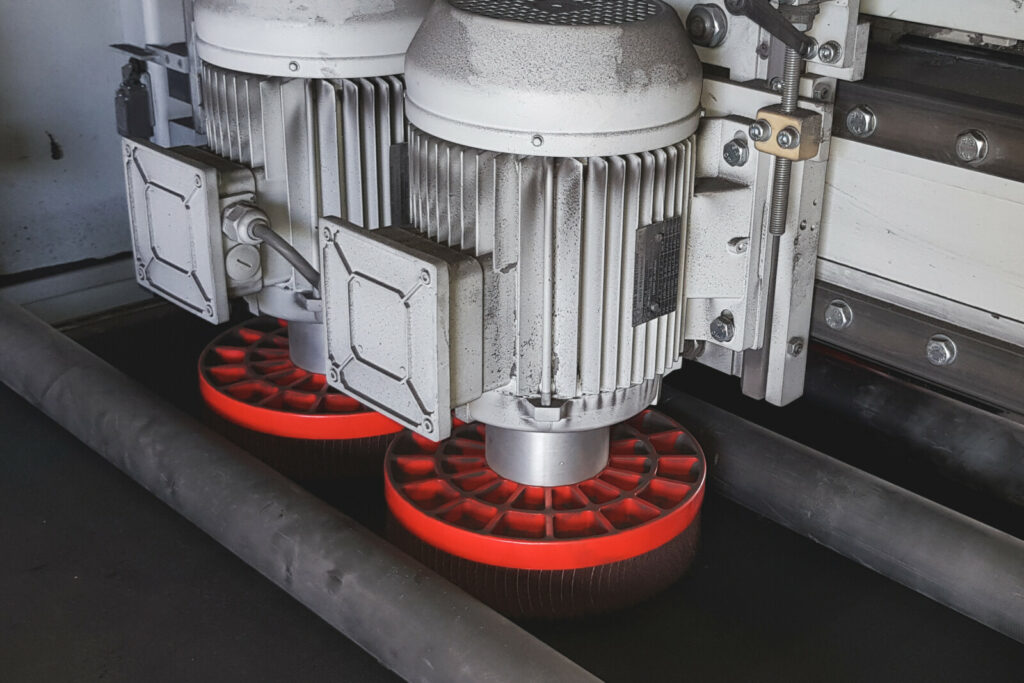 Metallbau Gogoll uses boeck 260 deburring discs and 260×2 deburring discs on the Loewer machine. Thanks to the good performance and long service life, the company saves time and money.
Important steps in the process chain
To meet the high demands, precise cutting of the sheets and exact welding are a matter of course. But if you want quality, you need more: "Deburring, edge rounding and oxide layer removal are important process steps in our production that massively increase the quality of our components. They form the basis for further processing of the cut-to-size sheets," says Rainer Gogoll. Rounded edges reduce the risk of injury both during assembly and on the finished end product. Individual parts can be damaged during storage if burrs are not removed. When deburring, the right choice of tool also affects the surface finish. In addition, cleanly deburred sheet metal is the basic prerequisite for a high-quality and durable coating or paint finish of any kind. This is because if, for example, the sheet edges are not deburred, this can lead to flaking of the coating. "It is also essential to remove the oxide layer that forms on the cut surface when our sheets are cut with a laser. Here, too, for example, coatings can flake off along with the oxide layer, leaving rusty spots. In addition, the oxide layer between the parts can prevent a uniform welding result," adds Rainer Gogoll. "That's why it's particularly important for us to have optimum conditions for deburring, edge rounding and oxide layer removal."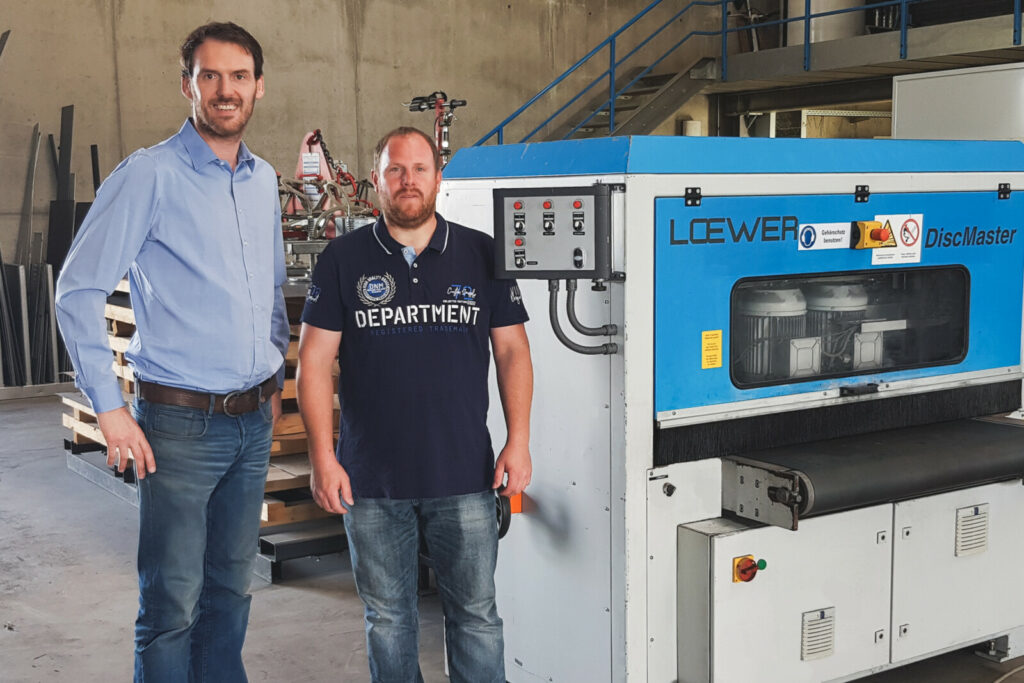 Dipl.-Ing. (FH) Dipl.-Kfm. (FH) Marc Böck (left), Managing Director of boeck GmbH, supports Rainer Gogoll (right), Managing Director of Metallbau Gogoll, in optimizing the processes on the Loewer machine. This produces excellent results in deburring, edge rounding and oxide layer removal.
Productivity increased
Gogoll has created excellent machine conditions for these process steps with the DiscMaster 4TD. The grinding and deburring machine from Loewer offers numerous application possibilities: Many processing steps are possible in a single operation. It deburrs and rounds stamped parts as well as waterjet-, laser- or plasma-cut sheets, removes the oxide layer and finishes. All materials – steel, stainless steel, aluminum, etc. – can be processed. Small parts as well as foiled and galvanized sheet metal are also no problem. "We used to deburr our sheet metal manually. That meant a considerable expenditure of time and manpower. With the changeover to machine processing, we were able to save enormously here. And not only that: thanks to the superimposed rotation and oscillation, we achieve excellent results with the DiscMaster 4TD. However, the best machine can only deliver excellent results if the quality of the tools used is also right. That's why we rely on the high-quality deburring discs and oxide brushes from boeck GmbH," says Rainer Gogoll.
Customized tool solutions
Customized tools for sheet metal deburring – from slag removal and pre-grinding to deburring, rounding, oxide removal and surface finishing – are the specialty of the team of experts around the two engineers Marc and Jochen Böck. Self-developed machines with a high degree of automation and structured high-performance processes ensure the highest quality and short delivery times. But perhaps the most important component in the boeck manufacturing strategy is the passion for technology. This is how convincing tooling solutions are created. "We offer solutions for deburring machines from numerous manufacturers, including all Loewer models. With the DiscMaster 4TD, Gogoll has a state-of-the-art, high-performance machine. With our tools and abrasives specially developed for these deburring machines, we try to optimize the processes in terms of cost, quality and time for Gogoll," says Dipl.-Ing. (FH) Dipl.-Kfm. (FH) Marc Böck, Managing Director of boeck GmbH.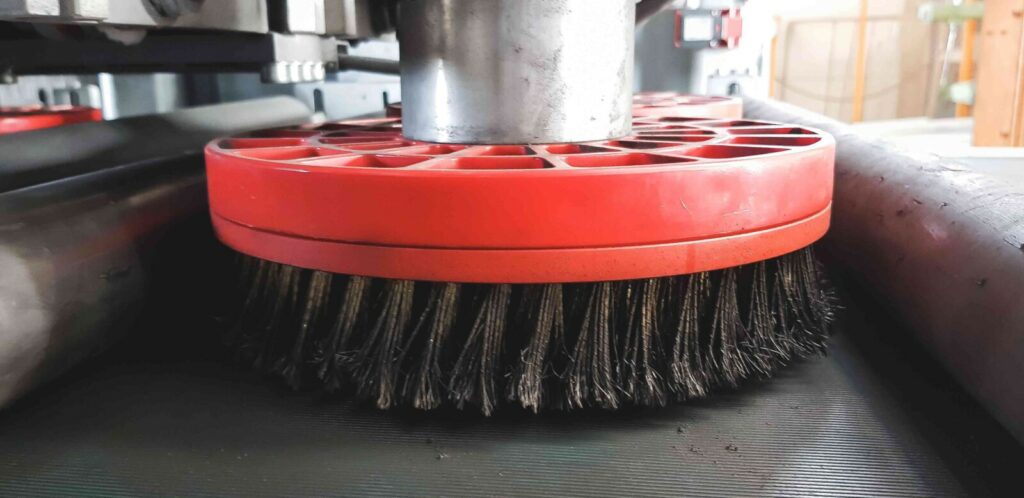 The oxide layer has negative effects on a coating and the grinding result. With the oxide brushes from boeck, Metallbau Gogoll obtains optimum oxide layer removal and ensures metallically bright cut edges.
Outstanding performance
Metallbau Gogoll uses the 260 and 260×2 deburring discs from boeck on the Loewer machine. Both variants, with a diameter of 250 mm and a 30 mm intake, are very well suited for removing light primary and secondary burrs as well as for rounding sheet metal components. Thanks to the double-row design, the 260×2 deburring discs have more abrasive cloth and produce an even more uniform pressure ratio. Depending on the workpiece spectrum and the desired result, the user can choose between different types of abrasive cloth in different grit sizes at boeck. Since Metallbau Gogoll mainly processes different types of steel in production, it falls back on the "Brown Edition". Marc Böck comments: "It is our all-rounder tool and can be used for any type of sheet made of steel and stainless steel – even with a changing range of workpieces. In addition, we also offer various solutions for strong edge rounding, the processing of aluminum and plastics, for deburring small cutouts and holes, for roughening the surface and also for wet deburring." To remove the oxide layer with the DiscMaster 4TD, Metallbau Gogoll uses boeck's oxide brush 260. The multi-row arrangement of the specially developed wire set enables optimal oxide layer removal and ensures metallically bright cut edges. "Both the deburring discs and the oxide brushes are state-of-the-art. This ensures long tool life and consistently high performance. In addition, the price-performance ratio is also optimal for us. This allows us to save money compared to manual processing," Rainer Gogoll expresses his positive experience with the performance of boeck tools.
Consulting included
And boeck offers even more than the delivery of the high-performance tools within the shortest possible time. The experts throw their extensive know-how into the balance for the users in order to find the best solution even when it comes to coordinating the process parameters. "In boeck, we have found a supplier who provides us with optimum advice on tools and on all stations in the grinding and deburring machine throughout the entire process chain with regard to machine and tool parameters. The experts recommend cutting and feed rates, for example, which we then test together on the machine. The result is great: we save time and money and get excellent results. With boeck, you are in very good hands, from primary burr removal to deburring/edge rounding to oxide layer removal," adds Rainer Gogoll.
Save costs and time.
Click here to discover our products!

Marc Böck is the founder & managing director of boeck GmbH together with his brother. His expertise focuses on the process chain of sheet metal processing and its optimization. He is the right contact person when it comes to the optimal deburring tool and the perfect process parameters.