Smart 'turn-key' solutions in special machine construction for assembly and welding fixtures are the specialty of Fuchs Werkzeug- und Maschinenbau GmbH. From design to production and assembly, the Lebach-based company supplies high-quality machines and assemblies for the automotive industry, the agricultural sector, construction machinery and the defense industry. Mapping complex joining sequences or initial situations with a simple fixture that is easy to handle is the passion and special art of the experts from the Saarland.

« To build our fixtures, we usually use stainless steel sheets, which we cut into suitable shapes by laser or waterjet. The fact that this produces burrs and sharp edges is in the nature of things. In order to reduce the risk of injury during subsequent handling of the assemblies and not to impair their functionality, deburring is one of our standard processes. Also, very strong edge rounding is often necessary on the sheet metal parts to meet our quality requirements, » says David Welter, production planner at Fuchs Werkzeug- und Maschinenbau GmbH.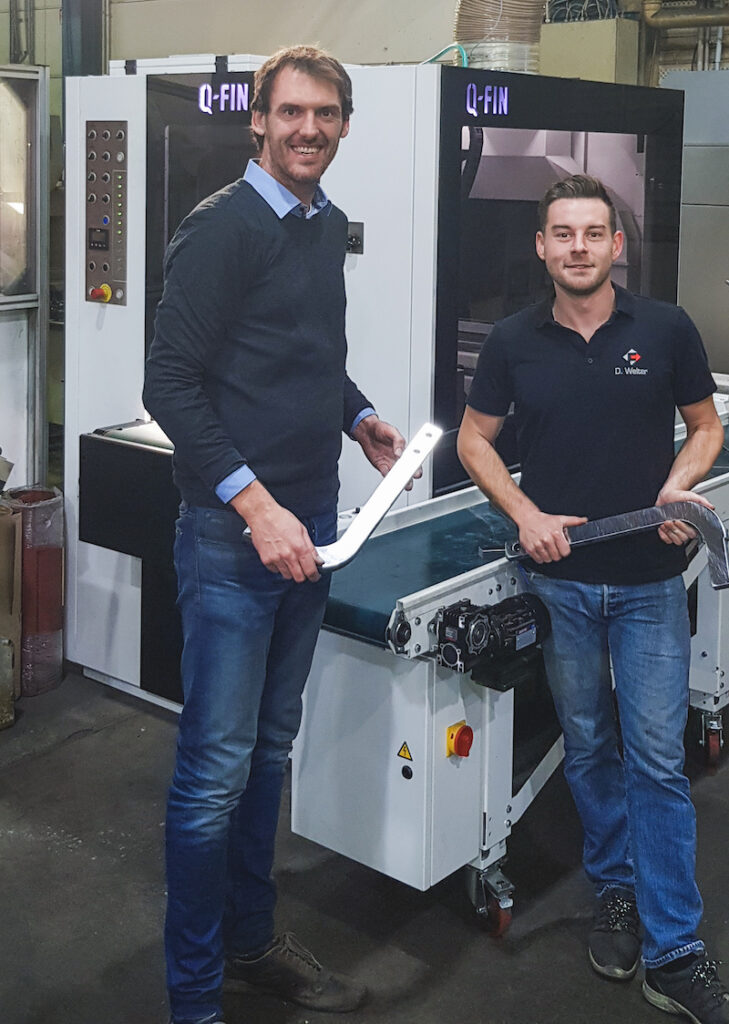 Partnership for record-breaking results (from left): Marc Böck, Managing Director of boeck GmbH, and David Welter, Production Planner at Fuchs Werkzeug- und Maschinenbau GmbH.
In the past, sheet metal at Fuchs was deburred and edge rounded in time-consuming manual work. Due to the time-consuming use of employees, who could have been employed elsewhere in a more value-added manner, Fuchs invested in an F600 deburring and grinding machine from Q-FIN. 


Thanks to the three machining stations – a grinding device followed by four oscillating brushes – various work steps such as deburring and edge rounding are possible in one pass – and at high speed. « We didn't want to simply convert manual machining into a machine process, but our focus was also primarily on achieving very strong edge rounding within the shortest possible time while maintaining a high working speed or feed rate, » explains David Welter. « The Q-FIN machine is perfect for these requirements. We found the right tools to deliver top performance in this world of extremes in boeck's HERO deburring discs. »
This is no coincidence, because the team of experts around engineers Marc and Jochen Böck developed the HERO deburring discs for exactly such challenges. « Customized tool solutions for sheet metal deburring, from slag removal and pre-grinding to deburring, rounding, oxide removal and surface finishing, are our passion – from development to production. Self-developed machines with a high degree of automation for the production of tools are an essential part of our structured high-performance processes, which guarantee the highest quality and short delivery times. With the high demands that Fuchs places on the quality and edge rounding of the sheet metal parts, it was quickly clear to us that only HERO deburring discs would come into question here, » says Marc Böck, Managing Director of boeck GmbH.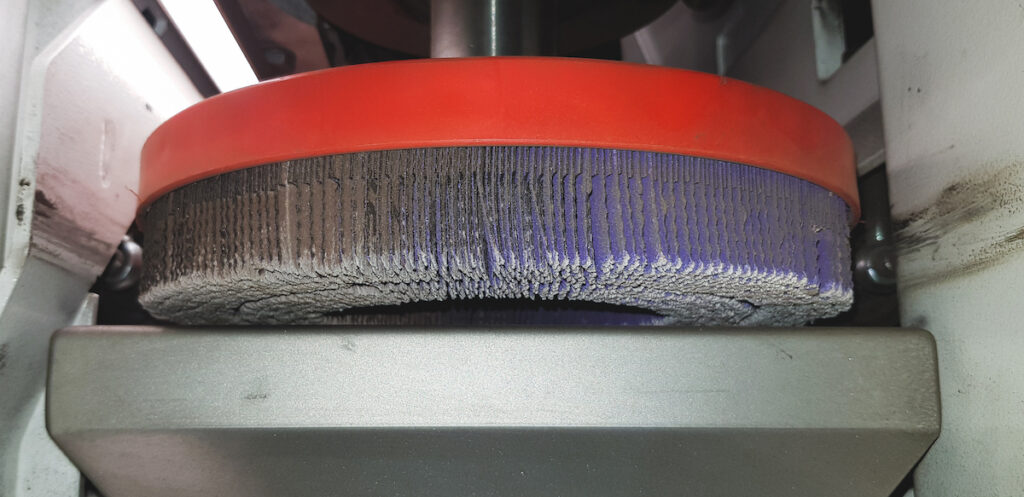 The secret of a of the HERO deburring discs is the extremely high abrasive density combined with very high flexibility of the grinding stock. To achieve this, boeck has developed a new arrangement and slot structure of the abrasive flaps. This increases the abrasive stocking many times over and thus also increases the performance potential of deburring machines.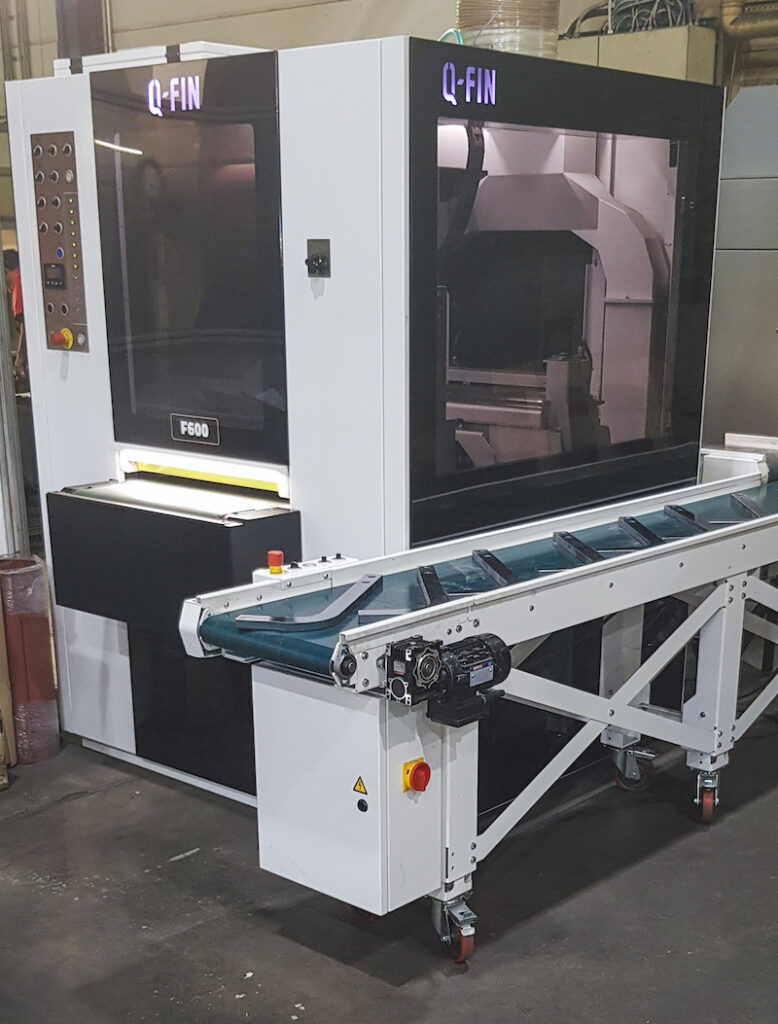 The Q-FIN grinding and deburring machine is ideally suited for the high demands at Fuchs Werkzeug- und Maschinenbau.
Fuchs uses the HERO deburring discs 260×2 in the Blue Edition on the Q-FIN machine. Thanks to the aggressive trim material, they achieve a very high removal rate and thus a strong edge rounding. In addition, boeck offers an all-rounder version of the HERO deburring discs (Brown Edition), which can be used for all types of sheet metal, and the Grey Edition for processing components made of aluminum and plastic. 
Marc Böck: « In doing so, we are not satisfied with just supplying the tools. We help our customers to optimize the processes so that they get the best out of their machines and our tools. At Fuchs, one of the challenges was the different degrees of hardness of the burrs on the waterjet- and laser-cut components. That's why we worked with Fuchs to fine-tune the setting parameters. » And the result is record-breaking: « We are thrilled! Extreme edge rounding in the shortest possible time, fast feeds, long tool life – that's exactly what we imagined. The all-round service from boeck makes the package perfect: We receive outstanding tools, fast, uncomplicated and competent advice, by phone or on site, as well as optimal processes thanks to extensive accompanied tests, » says Daniel Welter happily.
Fuchs also uses boeck tools for less demanding work. If less edge rounding is required on the stainless steel components, the standard 260×2 deburring discs from boeck are used in Lebach. They are well suited for removing light primary and secondary burrs as well as for rounding sheet metal components. Due to their double-row design, they have more abrasive cloth than other deburring discs and have a very uniform pressure ratio. The deburring discs are available in various designs depending on the range of workpieces and the desired deburring or rounding result. In order to achieve the desired result more quickly, Fuchs uses the Blue Edition with the high-performance abrasive cloth, 3M Cubitron II.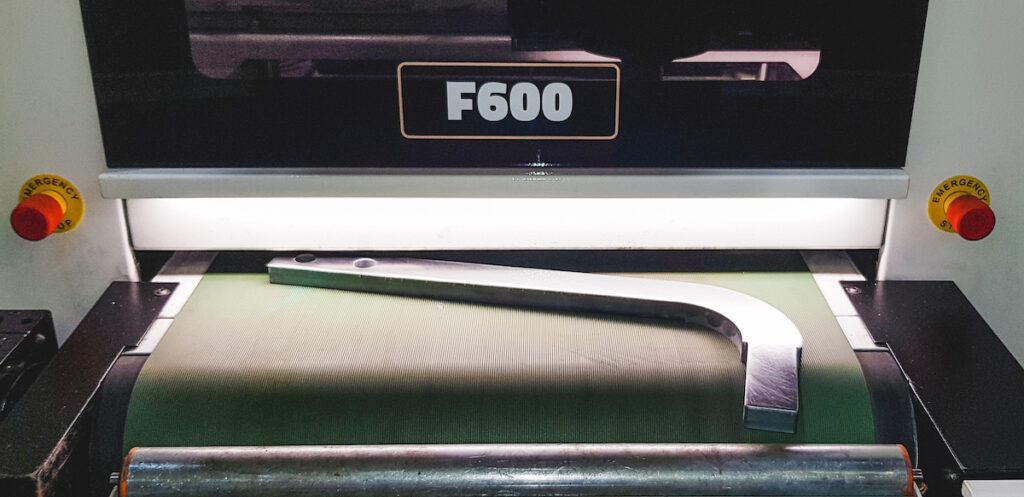 Daniel Welter: « We are always keen to use the latest technologies for our customers and are therefore constantly expanding our machinery. This requires coordinated process solutions. For our Q-FIN grinding and deburring machine, we have found the optimal partner in boeck GmbH. Here we receive the appropriate grinding and deburring tools and comprehensive process consulting. This enabled us to save a large part of our manual process times and achieve the required, extreme edge rounding. Together with the fast response and delivery times as well as a very good price-performance ratio, this leaves nothing to be desired. »
Extreme edge rounding in the shortest possible time?
Click here to discover our HERO tools for Q-FIN machines.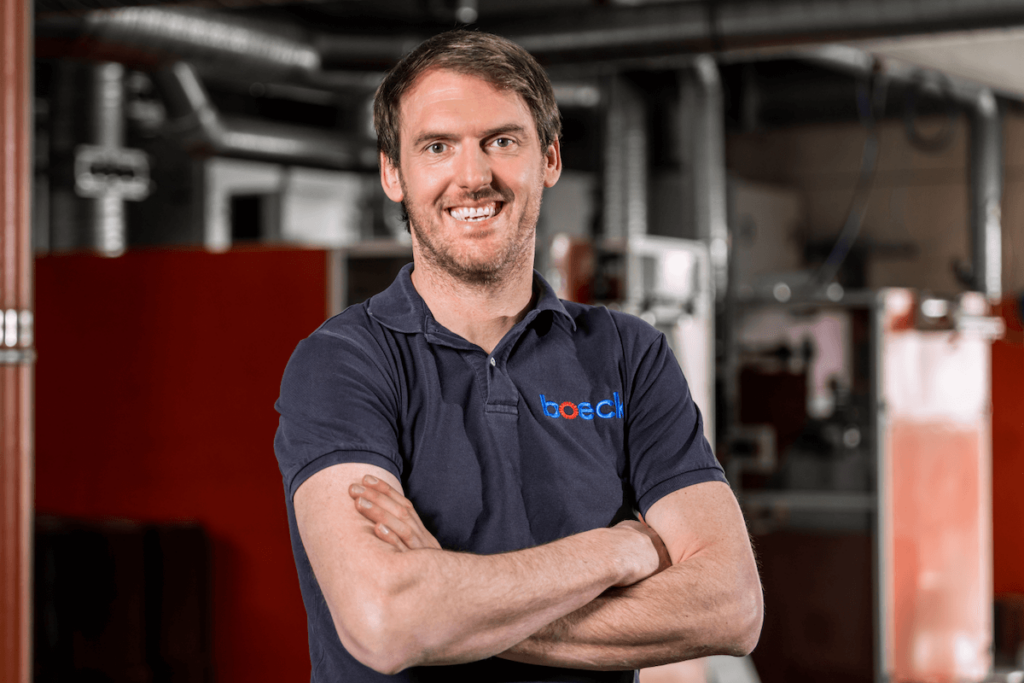 Marc Böck is the founder & managing director of boeck GmbH together with his brother. His expertise focuses on the process chain of sheet metal processing and its optimization. He is the right contact person when it comes to the optimal deburring tool and the perfect process parameters.