Faster, better, stronger – mythical heroes, be it Heracles with his legendary physical strength, Lancelot as a shining knight at King Arthur's side or Siegfried the dragon slayer, clearly stand out from the crowd. Because thanks to outstanding qualities, they are capable of extraordinary deeds. HERO deburring plates from boeck GmbH also achieve outstanding results: Within a very short time, they ensure very strong edge rounding. The stainless steel experts at Eberhardt GmbH from Lichtenau can see for themselves every day that they live up to their name and have been able to significantly reduce their process times. 
The experts from the new WEBER deburring machine (from left): Ralf Eberhardt, Development Manager at Eberhardt GmbH, Kevin Eberhardt, Production Manager at Eberhardt GmbH, and Dipl.-Ing. (FH) Dipl.-Kfm. (FH) Marc Böck, Managing Director of boeck GmbH.
From stainless steel sinks for sausage kitchens to 800 kg presses for industrial meat product suppliers – Eberhardt GmbH develops and builds high-quality stainless steel products for meat product companies. Ham presses, smoking and cooking trolleys, shelves, hygiene and wastewater technology made of stainless steel are sold by the 65-employee family-owned company to more than 100 countries. 
For its 40th anniversary, Eberhardt invested in a fourth plant. In order to meet the requirements for individual and flexible production with high quality, the new hall was equipped with modern machinery with trend-setting CNC technology. Among other things, the company acquired a WEBER PT 1350- The universal grinding machine of the new generation is excellently suited for deburring, rounding, descaling and surface grinding of fine or heavy plates. Up to five grinding stations enable all processing variants. « We are always keen to use the latest technologies for our customers. Thus, we are always looking for optimal process solutions for our constantly growing machine park – and this is also the case for our new WEBER grinding and deburring machine. With boeck GmbH, we have found the ideal partner for the grinding and deburring tools, » says Ralf Eberhardt, development manager at Eberhardt GmbH.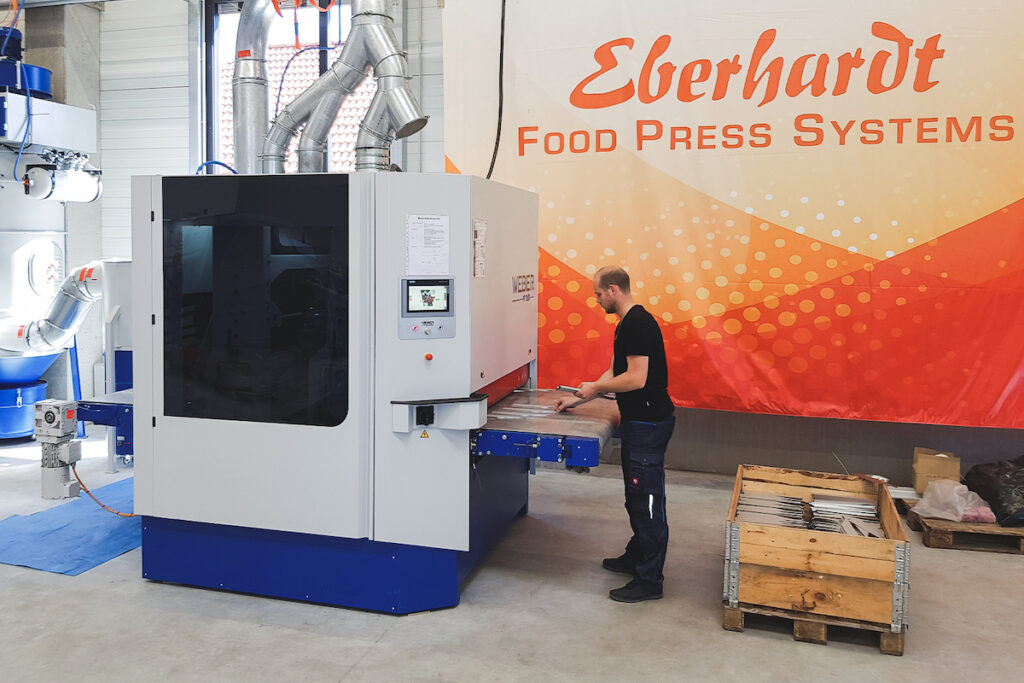 To achieve the extreme edge rounding on the stainless steel components on the new PT 1350 grinding machine from WEBER, Eberhardt looked for the right tools and found them in the HERO deburring discs from boeck.
« With the WEBER grinding and deburring machine, GEWA has a state-of-the-art system. With our rollers specially developed for wet-working grinding and deburring machines, we try to optimize the processes for GEWA in terms of costs, quality and time, » says Dipl.-Ing. (FH) Dipl.-Kfm. (FH) Marc Böck, Managing Director of boeck GmbH.
HERO masters high requirements with flying colors
For its high-quality products, Eberhardt mainly processes stainless steel V2A (1.4301) – but also higher alloy material such as V4A (1.4401 or 1.4571) on request. « In order to meet the high requirements of the food industry, the quality of the degeneration and the surface finish is crucial when processing stainless steel components. In this context, the very strong edge rounding on the sheet metal components from Eberhardt posed a particular challenge. This is exactly the right task for our newly developed HERO deburring discs. » Dipl.-Ing. (FH) Dipl.Kfm. (FH) Marc Böck, managing director of boeck GmbH, is convinced.And rightly so: « In the past, we had to deburr or edge-round the sheets in time-consuming manual work and the associated time-consuming use of personnel. With the HERO tools on our WEBER grinding and deburring machine, we achieve the extreme edge rounding required on our components – and in the shortest possible time. In this way, we save up to 80 percent of the process times, » Kevin Eberhardt, production manager at Eberhardt GmbH, tells us enthusiastically. « With an annual processing of 1,500 tons of stainless steel sheet, that's enormous. Four employees who were previously only responsible for deburring and edge rounding can now be more usefully employed elsewhere. »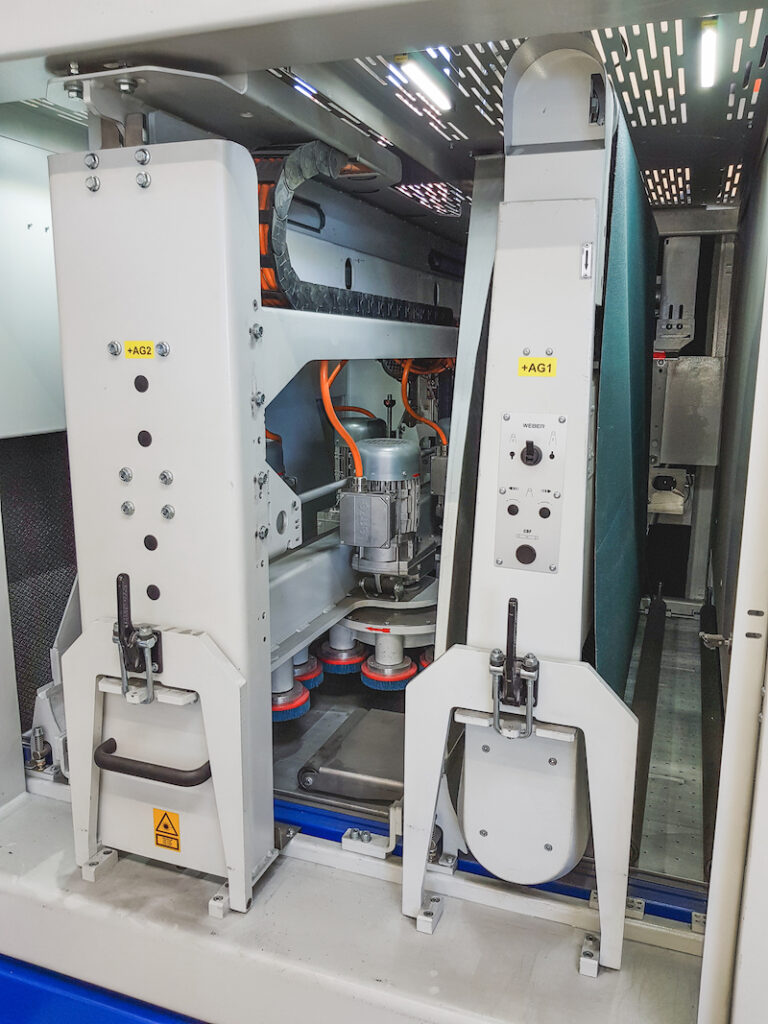 With the deburring rollers from boeck, GEWA achieves a good removal rate with a long service life at the same time.
Technological leap thanks to novel structure
Why are HERO tools so powerful? The core material of the new deburring discs is the extremely high abrasive density combined with very high flexibility of the abrasive stock. To achieve this, boeck has developed a new arrangement and slot structure of the abrasive flaps. This increases the abrasive stocking many times over and thus also increases the performance potential of deburring machines. This result is no coincidence, because the team of experts around engineers Marc and Jochen Böck put their heart and soul into developing and producing customized tool solutions for sheet metal deburring – from slag removal and pre-grinding through deburring, rounding and oxide removal to surface finishing.In order to optimally cover a wide range of applications, the HERO deburring discs, like most boeck products, are available with different trim materials. The Brown Edition is the all-rounder and can therefore be used for all types of sheet metal. Those who want to deburr a little more aggressively need the Blue Edition. Compared to the standard material, the abrasive cloth achieves a higher stock removal at the sheet edges and thus leads to a strong edge rounding. The Grey Edition is particularly convincing when processing components made of aluminum and plastic and additionally ensures a shiny surface of the workpieces.
Tools for all applications
Eberhardt also uses boeck tools for less demanding work. Marc Böck: « If minor edge rounding is required on the stainless steel components, these are processed in Lichtenau with our QUICK deburring discs in the PROFESSIONAL version. They are well suited for removing light primary and secondary burrs and for rounding sheet metal components. Due to the double-row design, they have more abrasive cloth compared to other deburring discs and have a uniform pressure ratio. »
Thanks to the new arrangement and slot structure of the grinding flaps, HERO deburring discs achieve very strong edge rounding within a short time.
Depending on the workpiece spectrum and the desired deburring or rounding result, boeck has different versions of the QUICK deburring discs in its portfolio. For example, there is a standard version for all types of sheet metal, different versions for strong edge rounding and for roughening the surface, versions for aluminum and plastics processing as well as especially for wet processing. boeck also offers the QUICK tools for deburring outer edges as well as sheets with small recesses and holes.
For primary burr removal, Eberhardt also uses abrasive cloth belts from boeck. In addition to different grit sizes, the user can choose between different abrasives for the abrasive cloth belts. Whether for universal use or aggressive but cool grinding, for a fine grinding pattern with high cutting ability or high material removal at low processing temperature, long service life and good surface quality – there is a suitable belt for every requirement.
More than just a tool supplier
In this context, boeck's service goes far beyond the supply of tools. « We are always looking for the best solution for our customers and therefore not only advise them on the appropriate tool selection, but also assist them in word and deed, for example, with the adjustment of the respective machine. Because only with the right parameters can the potential of our tools be fully exploited and bring the user a plus in productivity and economic efficiency, » knows Marc Böck. In this respect, boeck can draw on many years of experience and know-how. Not only are customized tool solutions developed here, but the tools are also manufactured on specially designed machines with a high degree of automation.This has also convinced Eberhardt: « Whether by phone or on site – the experts from boeck advise us quickly, straightforwardly and always very competently. In addition, not least the extensive tests with boeck ensure excellent results in deburring and edge rounding. And that's not all: Short response and delivery times as well as the very good price-performance ratio of the tools round off the service package of boeck GmbH, » Kevin and Ralf Eberhardt agree.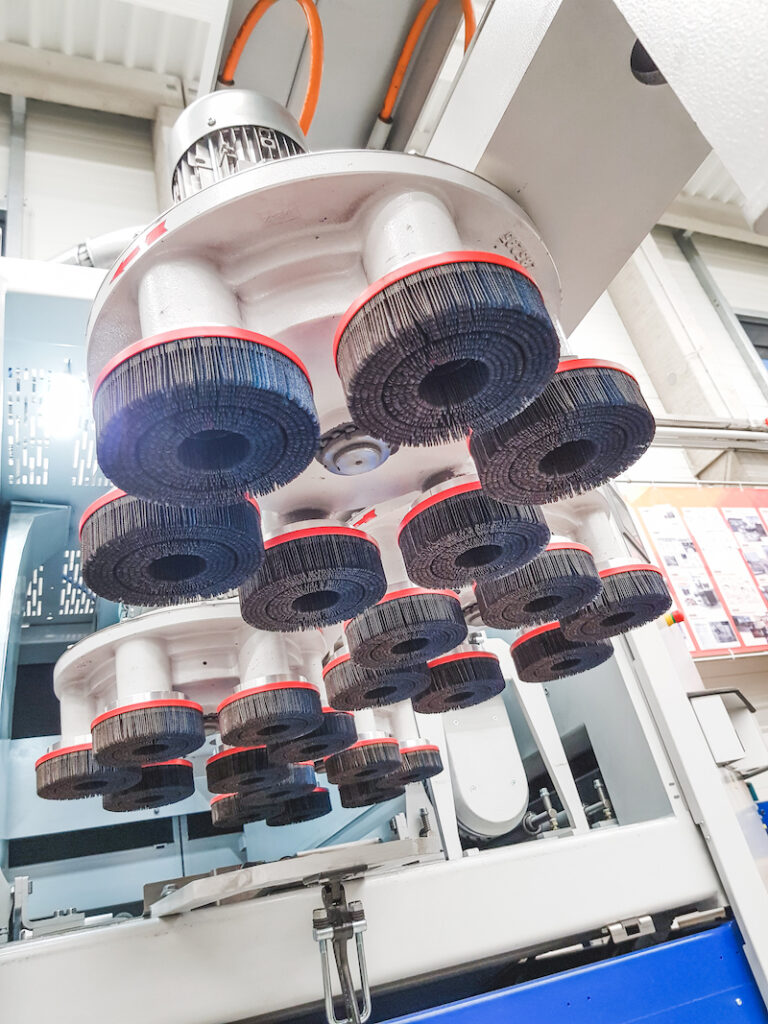 With HERO tools from boeck on the WEBER grinding and deburring machine, Eberhardt was able to reduce process times by 80 percent.
Shorten grinding times up to 80%!
Click here to discover our HERO tools.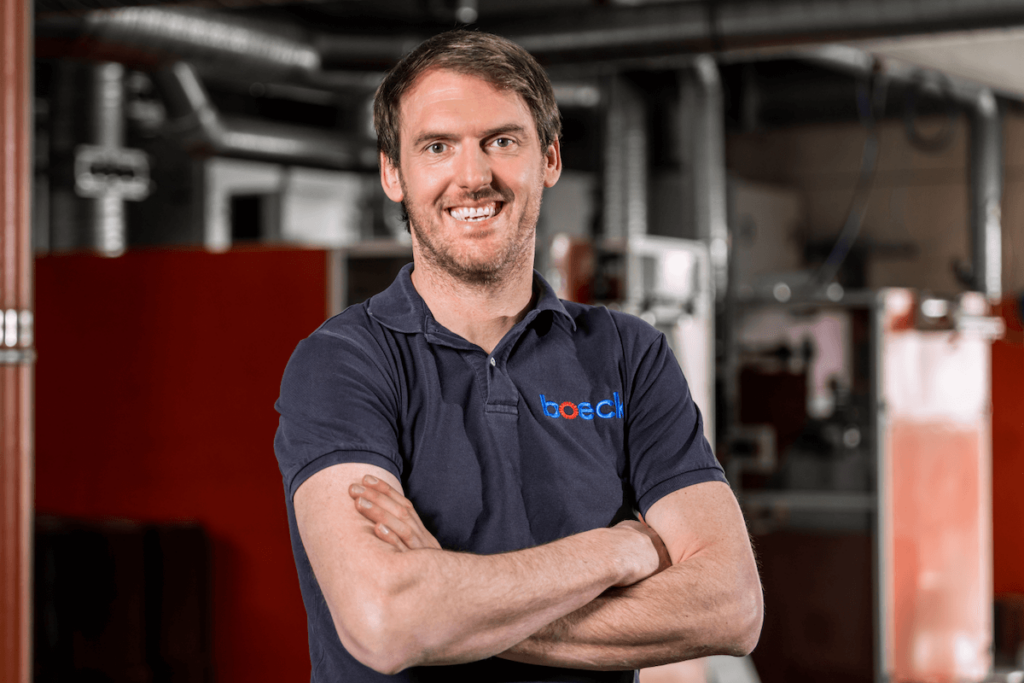 Marc Böck is the founder & managing director of boeck GmbH together with his brother. His expertise focuses on the process chain of sheet metal processing and its optimization. He is the right contact person when it comes to the optimal deburring tool and the perfect process parameters.