SHEET METAL DEBURRING WITH BOECK'S TOOLS
Our tools will improve your "sheet metal deburring" process. They are perfect for slag and oxide removal, deburring and rounding of edges, and surface finishing. Other benefits include reducing risk of injury by eliminating sharp sheet metal edges, large edge-rounding for a perfect coating later on in the process, and the possibility of reaching a picture perfect decorative finish.
DESLAGGING, GRINDING, DEBURRING AND EDGE ROUNDING
The process chain "deburring sheet metal" is in full swing at companies. Due to the increased quality requirements combined with the pursuit of shorter lead times and economical production, automated deburring machines are increasingly being used.
New deburring machines are usually equipped with multiple stations and allow the integrated execution of different processes. With the right tools, the processes of slag removal, pre-grinding, deburring, edge-rounding, oxide removal up to finish grinding can be realized. For removing the melt residues in plasma or oxy-fuel cut sheet metal, slag removal tools such as our slag hammer brushes with a large number of flexibly mounted pins can be used.
Primary burrs, spatters, unevenness and/or scale layers are normally removed with belts, discs or sheets. The deburring and edge rounding takes place through flexible abrasive tools in the form of discs, rollers or blocks. Here, secondary burrs are removed and the sheet edges are rounded up to 2mm or even larger.
If the cutting edges need to be freed from oxide layers, oxide brushes with flexible wire fill can be used to achieve blank metallic edge surfaces. The last step allows to make different types of sanding and finishing polishing. Abrasive fleece, abrasive cloth and felt tools are used.
OUR PRODUCTS ARE COMPATIBLE WITH MOST COMMON MACHINE MANUFACTURERS
Arku | Authentec | Boere | Bütfering | Costa | DMC | EMC | Ernst | Famak &nbsp| Finishline | Fladder® | Gecam | Heesemann | Houfek | Jonsen | Kuhlmeyer | Lissmac | Loeser | Loewer | Madora | Mc Talleres | Metalbrus | Midwest | Ming Ping | Murata | Niederberger | NS Máquinas | Peitzmeier | Pola e massa | Q-Fin | RWT | Salida | St. Link | Telefoncular | Timesavers | Tripuris | VG Machines | Viet | Weber | Wöhler | Wolters
SHEET METAL DEBURRING IS OUR KEY SKILL
boeck GmbH develops and manufactures the latest deburring technologies for sheet metal processing. On the one hand, tool development takes place on the basis of the deburring requirements of our customers and, on the other hand, we perform basic tests.
In this way, we develop a deep knowledge of the influencing factors and their interactions within the deburring process and translate this into deburring solutions. Our customers benefit from deburring tools that are perfectly tailor-made to your needs, as well as process know-how in terms of optimal process parameters. The tools are  MADE IN GERMANY by highly qualified personnel and the use of the latest, highly integrated machining technologies. In terms of production objectives, we achieve maximum efficiency, particularly through the automation and continuous digitization of administrative and technical processes.
We work tirelessly to ensure that our customers benefit from the best quality tools possible, very economical and personalized in the shortest time.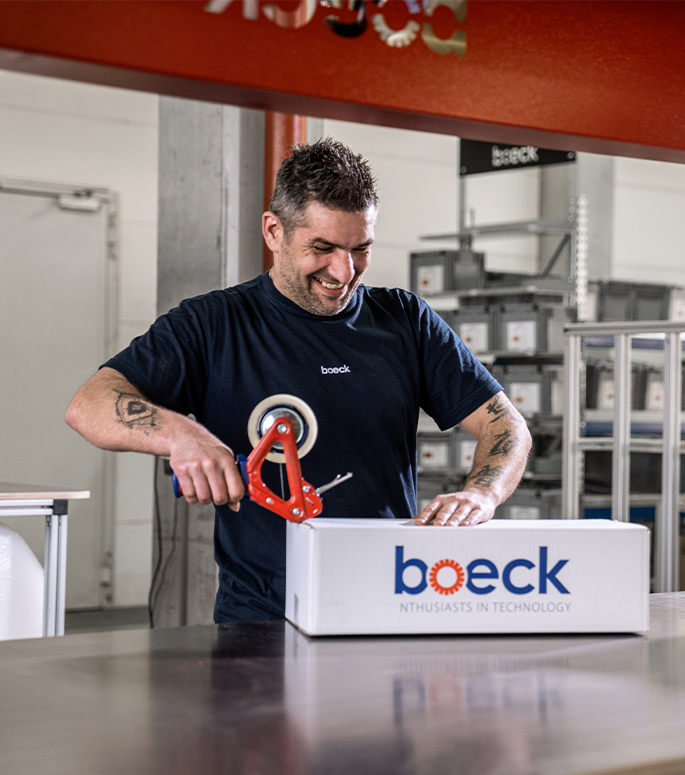 Dipl.-Ing. (FH) Dipl.-Kfm. (FH)
CEO
Dipl.-Ing. (FH)
Plant manager