DROSS REMOVAL WITH BOECK'S TOOLS
At boeck, we strive to improve and streamline your entire sheet metal working process, starting with the first step in the processing chain: dross removal. This step is often overlooked, despite the fact that it safeguards workers and prevents part degradation. Additionally, investing in effective tools to remove dross can greatly reduce downtime and thus reduce your costs.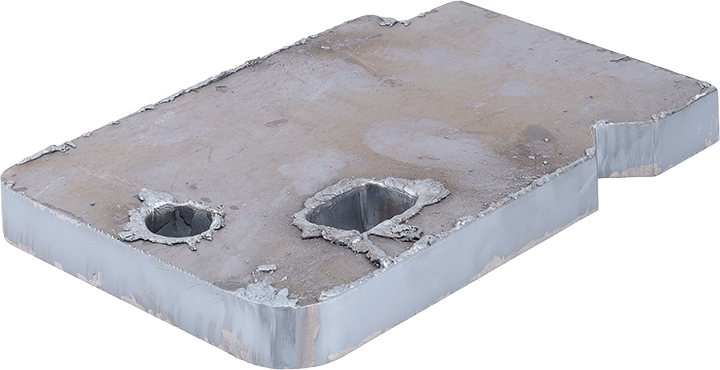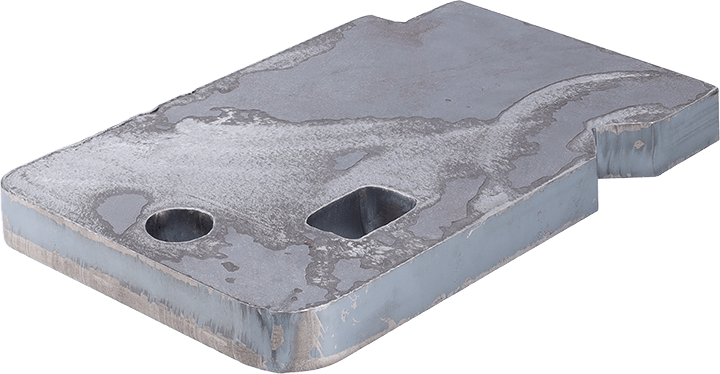 During plasma or gas cutting, strong melting often occurs, with the molten metal sagging on the beam-exit side. This so-called dross, or sometimes slag, occurs both on the inner and outer contours of the workpiece and must be removed for effective and economical further processing.
Common manual methods for dross removal include chipping it away using a hammer and chisel, or grinding using an angle grinder. However, this is labor intensive and leads to longer overall processing times.
In terms of mechanical processes, dross can be removed by grinding with a soft contact roller. An even faster and easier industrial method is knocking it off using a deslagging brush made up of multiple flexibly mounted steel pins. 
OUR TOOLS FOR REMOVING DROSS
Instead of hammer and chisel, let boeck deslagging brushes do the heavy lifting for you. They are available for all common deburring machine types, whether top grinders or automated machines. To reduce downtime even further, they can be equipped with our quick-release system for easier and faster set-up times.
Depending on your material and dross toughness, it may be wise to switch between different variants. For this purpose, we have different diameters and hardness levels in our range, ranging from H1 to H4. To optimize your dross removal, you can additionally opt for single-row or double-row deslagging brushes.
Need help selecting the optimal tool for your dross removal process? Contact us and we will advise you accordingly.
OUR PRODUCTS ARE COMPATIBLE WITH MOST COMMON MACHINE MANUFACTURERS
Arku | Authentec | Boere | Bütfering | Costa | DMC | EMC | Ernst | Famak | Finishline | Fladder® | Gecam | Heesemann | Houfek | Jonsen | Kuhlmeyer | Lissmac | Loeser | Loewer | Madora | Mc Talleres | Metalbrus | Midwest | Ming Ping | Murata | Niederberger | NS Máquinas | Peitzmeier | Pola e massa | Q-Fin | RWT | Salida | St. Link | Telefoncular | Timesavers | Tripuris | VG Machines | Viet | Weber | Wöhler | Wolters
deslagging brushes in action
the newest dross removal technologies
boeck GmbH develops and manufactures the latest technologies for sheet metal processing, including dross removal. On the one hand, tool development takes place on the basis of the requirements of our customers and, on the other hand, we perform basic tests. This way, we develop a deep knowledge of the influencing factors and their interactions within the sheet metal working process and translate this into solutions. This ensures you will benefit from tools that are perfectly tailored to your needs, as well as from know-how in terms of optimal process parameters. Our tools are MADE IN GERMANY by highly qualified personnel and the use of the latest, highly integrated machining technologies. In terms of production objectives, we achieve maximum efficiency, particularly through the automation and continuous digitization of administrative and technical processes.
We work tirelessly to ensure that our customers benefit from the best quality and most effective tools possible, customized in the shortest time.
Dipl.-Ing. (FH) Dipl.-Kfm. (FH)
CEO
Dipl.-Ing. (FH)
Plant manager